Mastic, a rare gum or food/beverage flavouring, is the resin of the mastic tree (Pistacia lentiscus var. Chia). It is synonymous with the neighbouring Greek island of Chios; indeed, mastic in Turkish translates 'damla sakızı', and the Turkish name for the Island of Chios is 'Sakız Adası' or Mastic (Gum) Island. After shipping and general trade, mastic exports account for the third largest GDP industry for the Island of Chios.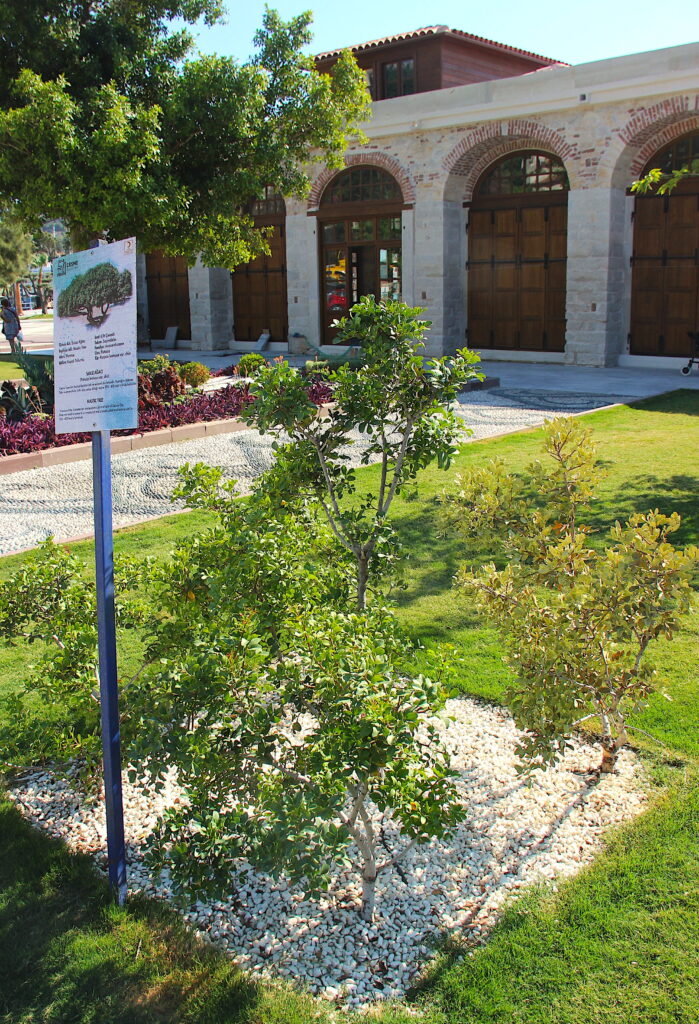 Çeşme was an important mastic production centre in the past centuries, but when tobacco became a high-value cash crop, tobacco farmers largely replaced the mastic trees and vineyards of the region. Later a focus on tourism caused a decline in agricultural activities in the peninsula. In recent years, Turkey resumed efforts to boost mastic production, and many thousands of trees have been planted across the country.
Sapling mastic trees planted in 2022 close to the shore in Çeşme at Cumhuriyet Meydanı
Due mainly to the temperate climate and soil conditions similar to the southern part of Chios Island, the Çeşme peninsula remains the top location for mastic yields in Turkey. There is an effort to make Çeşme a centre for gastronomic tourism for which mastic is an indigenous and, therefore, essential ingredient. After 50-year hiatus, mastic trees have once again been planted in areas such as Çiftlikköy village south of Çeşme and on the outskirts of Alaçati. Following destructive forest fires in August 2021, just north of Ildiri on the Gerence Gulf, a regeneration of the region was started with the planting of over 5,000 mastic saplings. As of 2022, production in Çeşme is stated to have reached 50kg, and there are plans to plant a further 20,000 saplings.
The slow-growing evergreen mastic shrub reaches a height of up to three metres and maturity after around forty years with a lifespan of one hundred years. Trees can start producing mastic resin after five to eight years of growth, yielding between 60g and 250g of resin. In preparation, the lower branches of the trees are pruned in February, and in June, the ground around the trees is cleaned and covered with a white chalkstone power. Harvesting of mastic occurs from July through to September. It consists of "pricking" incisions into the tree to elicit the "tears" of sap that are hardened and crystalised on the tree before falling to the ground. The white/pale yellow resin is collected, sorted for quality, and hand cleaned to remove sand and other contaminants.
It is understood that mastic has antioxidant, antimicrobial and anti-inflammatory action; 2,400 years ago, the Greek physician Hippocrates II and 2,000 years ago, the Greek physician Pedanius Dioscorides noted and recommended mastic in cases of stomach pain, ulcers, digestive aids and oral hygiene.
Although initially bitter to taste, the raw hard resin can be chewed and will soften to a gum texture giving off the distinct floral flavours of mastic. In 2015 the European Medicines Agency (EMA) approved mastic as a traditional herbal remedy for the symptoms of mild digestive disorders.
The boutique food store Çeşme Köy Kurabiyecisi on the high street in Çeşme is typical of several such shops in Çeşme and Alaçati that specialise in products, and bakery items flavoured with mastic.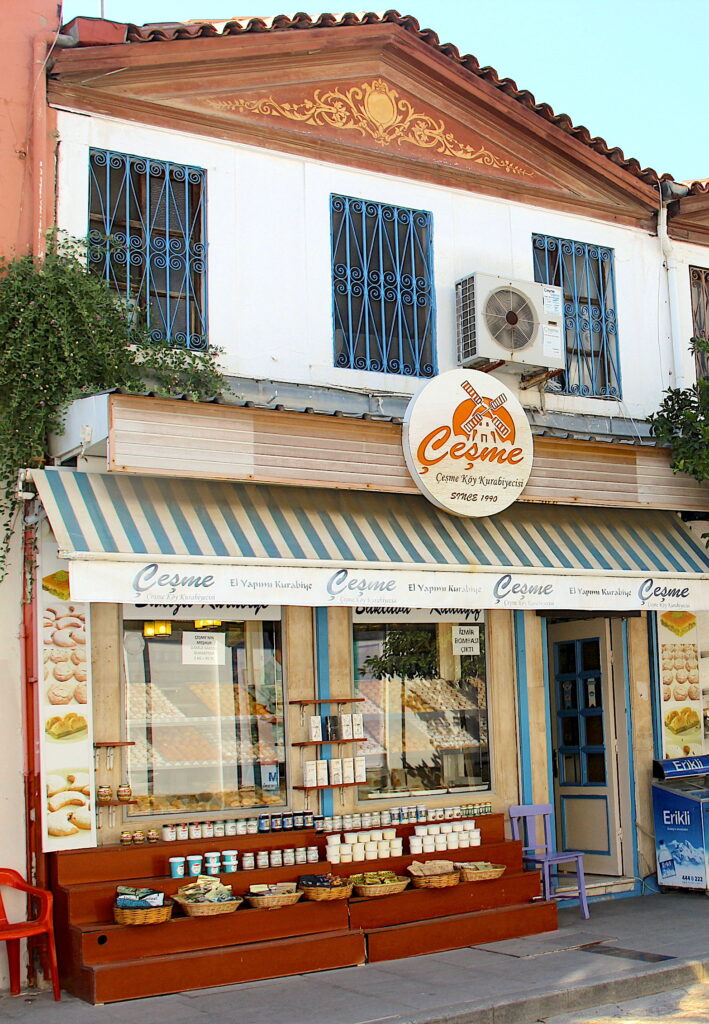 The resin is typically processed and used in a variety of ways, primarily for food (sweets, Turkish delight, chewing gums, biscuits, cakes, desserts, ice creams, and jams) and beverage (coffee, sodas, and alcoholic spirits) flavourings but also for cosmetics (toothpaste, soaps, shampoo, face creams, perfumes and body oils).
Besides Greece and Turkey, mastic is a popular ingredient in the products and cuisine of Eygpt, Iraq, Japan, Lebanon, Morrocco, Saudi Arabia and Syria.
Example beverages with mastic: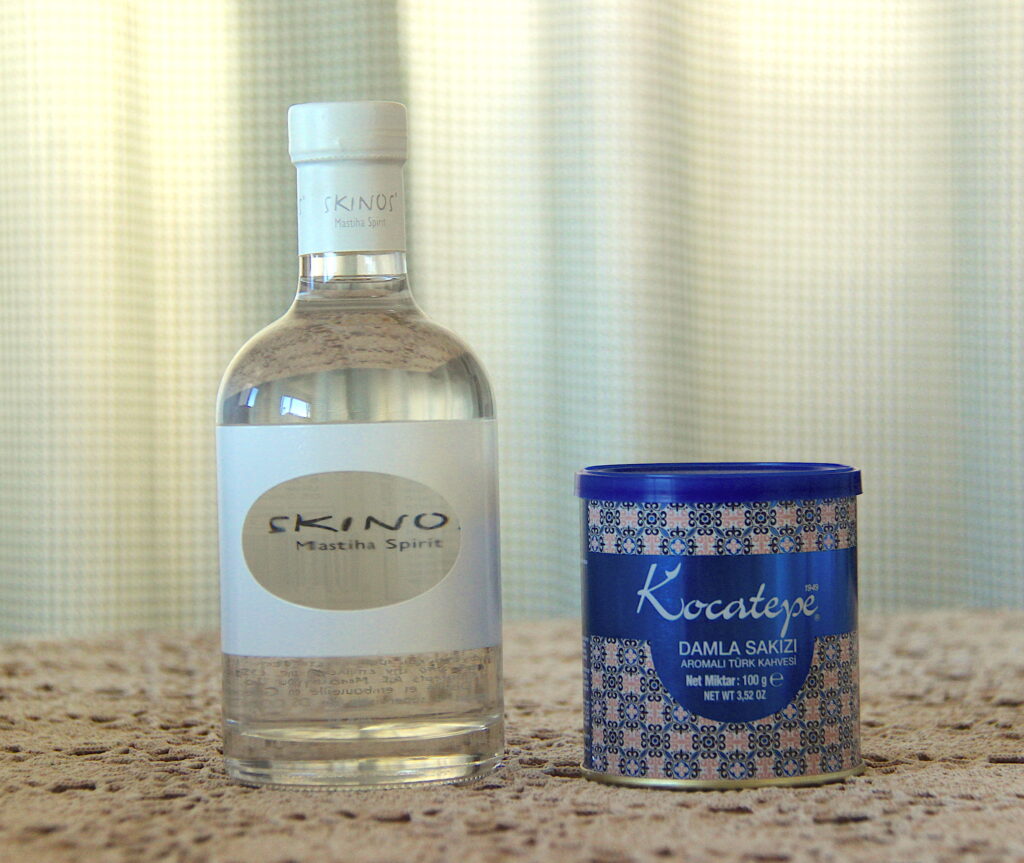 "Skinos Mastiha Spirit" is a Greek 30% alcoholic spirit flavoured with mastic and sugar and used in long drinks such as Skinos & lemonade or in contemporary cocktails like Skinos Mediterranean Negroni. It can be purchased in duty-free shops in Greece and Turkey.
"Kocatepe Damla Sakızlı Türk Kahvesi" is a ground Turkish coffee bean flavoured with mastic. It is prepared by mixing with cold/ambient water and cooked at medium-low heat for approximately 3 minutes. It can be purchased in supermarkets and grocery stores throughout Turkey.