Kokoreç is a very popular fast-food dish in Turkey, typically consisting of milk lamb sweetbreads (thymus gland) and large intestine wrapped with the young spring lamb small intestines grilled on a horizontally rotating cast iron skewer over charcoal. It is served in half a baguette of bread or a flatbread wrap. İzmir Kokoreç is presented to the bread/plate directly from the heat of the coal embers with 4-5 knife slices and accompanied simply with cumin. This is different from kokoreç from other regions of Turkey, which is most often finely chopped and mixed with tomato, pepper and herbs such as mint and thyme.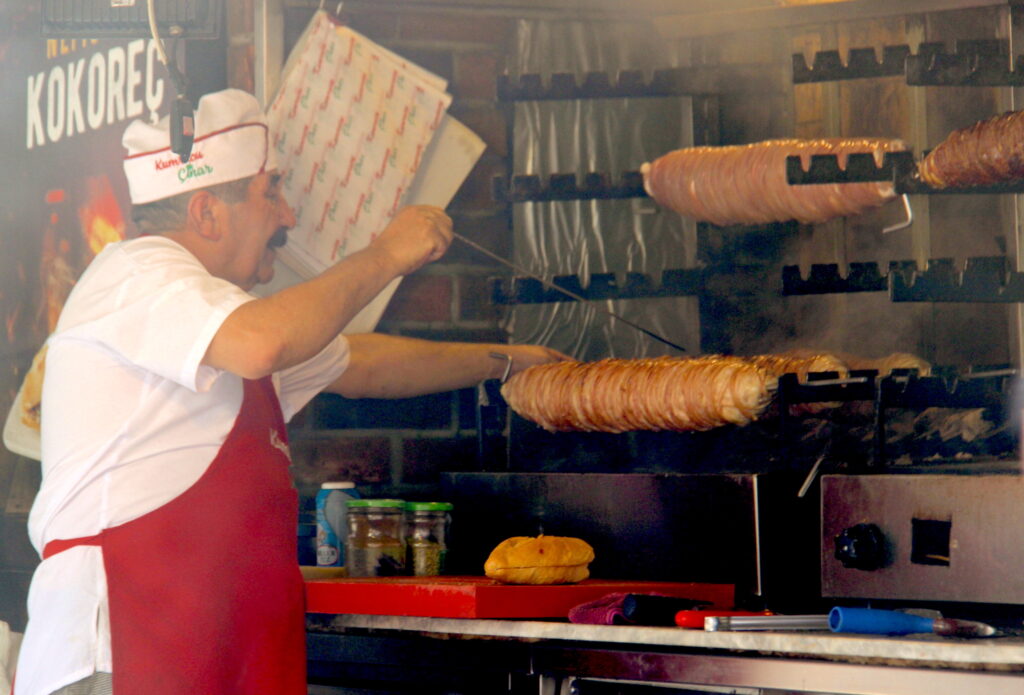 In the preparation of kokoreç, the intestines are turned inside out and thoroughly cleaned, rubbed, and washed five times in rock salt and water. The fatty large intestine and sweetbread are threaded onto the long skewer, then wrapped with the intestine to hold it tightly together like a bandage dressing. The kokoreç may be flavoured with oregano, salt, pepper, olive oil and lemon.
As a dish purported to originate from the Byzantine era, similar recipes using other offal such as liver, heart, lungs, and kidney can be found in Albania, Armenia, Azerbaijan, Bosnia, Bulgaria, Greece, and Serbia.