Yıldızburnu Spa, Ilıca
Ilıca, 35930 Çeşme/İzmir, Turkey
Located on a public cove close to the small habour at the far west end of Ilıca's main beach the 45ºC thermal waters rise in the sea creating a spa environment.
Gülbahçe Hot Springs (Ilıcası), Urla
Gülbahçe, 12073. Sk. 32-13, 35430 Urla/İzmir, Turkey – Note: the Google Maps locator indicates the Gülbahçe Ilıcası building as adjacent to the Urla Surf House, however, it is not possible to access from this point without wading through the shallow waters at the mouth of the Tatar Stream. Direct access by car requires taking a track leading from the D300 halfway between İçmeler and the Izmir Institute of Technology (İYTE).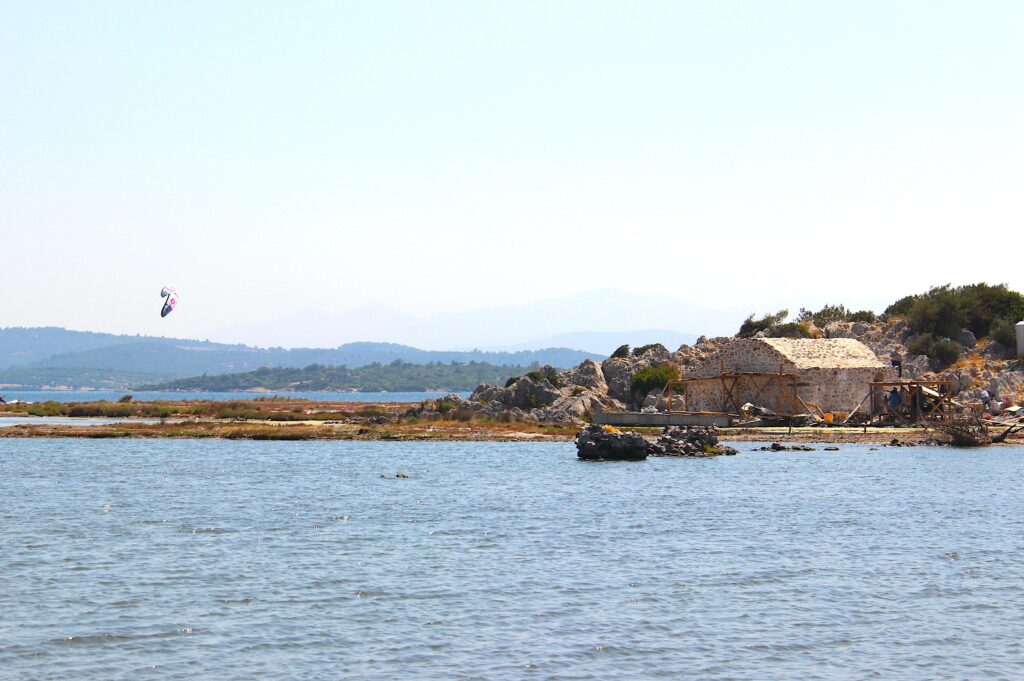 The stone building leading into the sea that constitutes the thermal bath is located just southeast of the village of Gülbahçe 38km east of Çeşme, 12km west of Urla. While often referred to as the 'Ancient Roman Baths', there is no definitive evidence that they belong to the Roman period. Around the spa is a 5,000-year-old mound and ruins thought to belong to the Hellenistic period. The brick building is currently (July 2021) under restoration.
Gülbahçe (literally rose garden) was an ancient Greek town known as Rodónes.
Malaca (Malkoç) Springs, Urla
İçmeler, 35430 Urla/İzmir, Turkey
Located 9km west from Urla at İçmeler in the direction of Çeşme, the facilities around the springs were popular as a summer health resort from the 1950s through to the 1980s, however, they are now abandoned and derelict. The highly mineralised (7.5g / litre) sodium chloride salt waters were thought to be beneficial in the treatment of intestine, liver, and biliary tract diseases. The waters are at 22ºC with a 6.92 pH value are considered potable.