As a relatively small seaside town, retail outlets are reasonably limited in Çeşme, with Izmir offering a much broader array of stores, malls and specialist shopping. The following are the three main retail zones for Çeşme, plus locations in touristic Ilıca and the fashionable and rapidly evolving narrow boutique-lined streets in Alaçatı:
Çeşme High Street
Atatürk Boulevard, 35930 İzmir/Çeşme
Çeşme's main high street runs 500 metres along the far west end of Atatürk Boulevard from the roundabout at Cumhuriyet Myd (Republic Square) to the castle and seafront. The street narrows at the Kumrucu Çınar restaurant and becomes primarily pedestrian, restricted to most, but not all cars. There are also some shops along 3001 Sk., 2032 Sk., and beyond the castle on 1015 Sk., however, the majority are along or just off the high street. The street has clothing/shoe boutiques, jewellery, souvenir-, book-, toy-, telephone- shops, opticians, grocery stores, restaurants, cafes, bakery/patisseries, ice cream parlours, chemists, photo studios, banks and exchange offices as well as the Ayios Haralambos Church.
Çeşme Marina
Link to marina retail site. Location: Musallah Mah Marina Avm, 1016. Sk., 35930, İzmir/Çeşme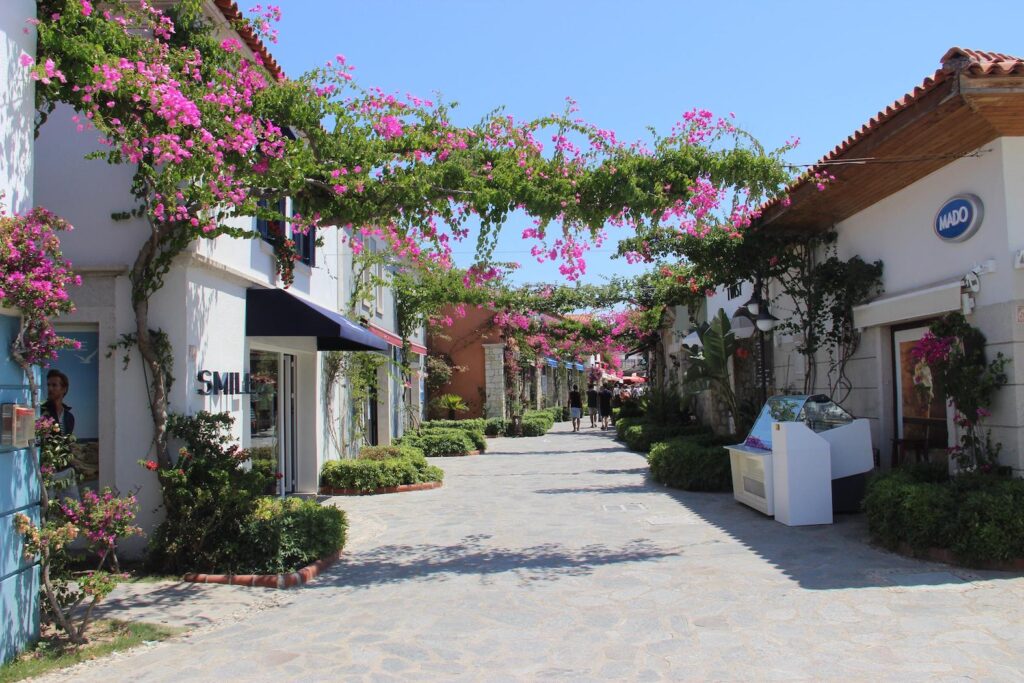 Immediately adjacent to the yacht berths bending in a U-shape for 500 metres around the marina are the upscale retail outlets, interspersed with restaurants including a Burger King. The shopping comprises mainly of boutique clothing stores but also has home textiles, sunglasses, jewellery, perfume, a toy shop, D&R music & bookstore, Teknosa electronics and a Carrefour supermarket.
Cadde Plus, Çeşme
Link to Cadde Plus retail site. Location: Sakarya, Atatürk Blv. No:119, 35930 Çeşme/İzmir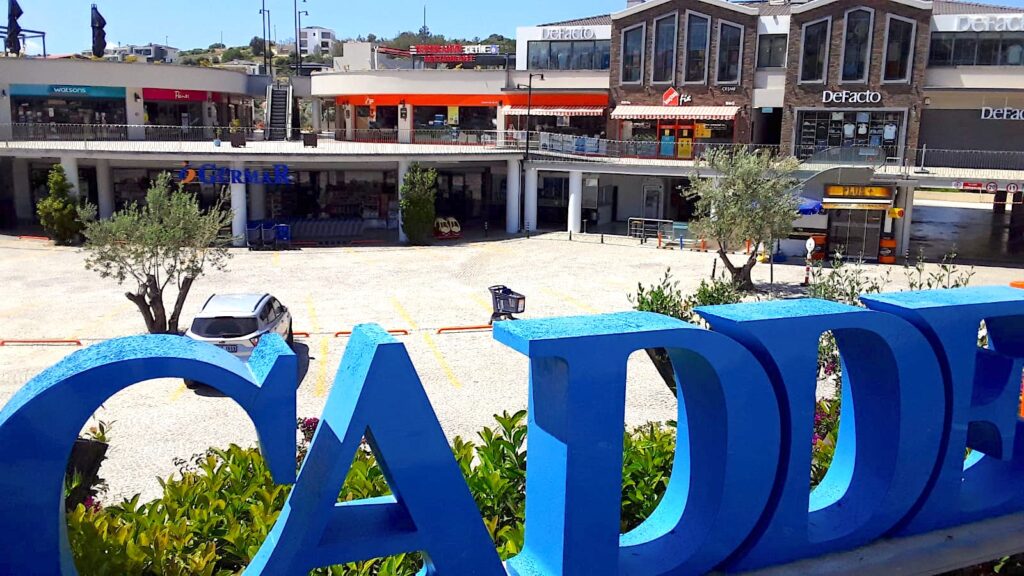 A compact modern shopping area on Atatürk Boulevard at the roundabout junction to the Dalyan road (3118 Sk.). The retail area has ample parking and includes a Koçtaş home improvement & garden store, clothing stores, toy store, chemist, mobile phone shop, restaurants and a Gürmar supermarket.
Ilıca High Street
Location: Celal Bayar Mh., 5152. Sk., 35930 Çeşme/İzmir
Retail outlets in Ilıca are mainly spread along approximately 700 metres on 5065 Sk. and 5152 Sk. parallel to the beachfront and include beach stores, clothing stores, home furnishings, chemists, post office, banks, hairdressers, garden store, food stores, bakery/patisserie as well as several restaurants and fast food outlets.
Alaçatı Town Centre
Location: Kemalpaşa Cd. Alaçatı, 35930 Çeşme/İzmir
As a retail destination, Alaçatı has grown significantly in recent years and is far more expansive than Çeşme. The main shopping areas are mainly on Kemalpaşa Cd., Uğur Mumcu Cd. and Atatürk Boulevard (Alaçatı), but also on spur streets such as 1001, 1005, 1039, 1042, 1043, 1044, 3000, 3046, 3048 and 3049 Sk. The labyrinth of narrow streets with sympathetically restored and recently built greek style sandstone buildings, adorned wooden balconies and bright coloured doors and window frames/shutters are the main charm of Alaçatı. The alleys shaded by climbing flowers and canopies have attracted many art studios, antique stores, fashion boutiques, and other shops and stalls selling handicrafts, accessories, souvenirs, ceramics, jewellery, home decorations, and more common units and stores, including banks and grocery stores. Scattered between the shops are boutique hotel entrances, restaurants, patissiers, ice cream parlours, coffee shops, and bars with small and colourful wooden tables and chairs.