A great delight of Turkey and the Aegean coast is the availability of fresh sea fish and seafood, whether ordered at a popular waterside restaurant watching the sunset over Chios, or purchased from a fishmonger and cooked or barbecued at home.
The great staples and favourites of the Aegean are sea bass 'levrek' and (gilt-head) sea bream 'çipura', which can be found farmed and wild in most fishmongers year-round. Nevertheless, there is a great range of other fish available in different seasons of the year from the Agean or further Mediterranean waters.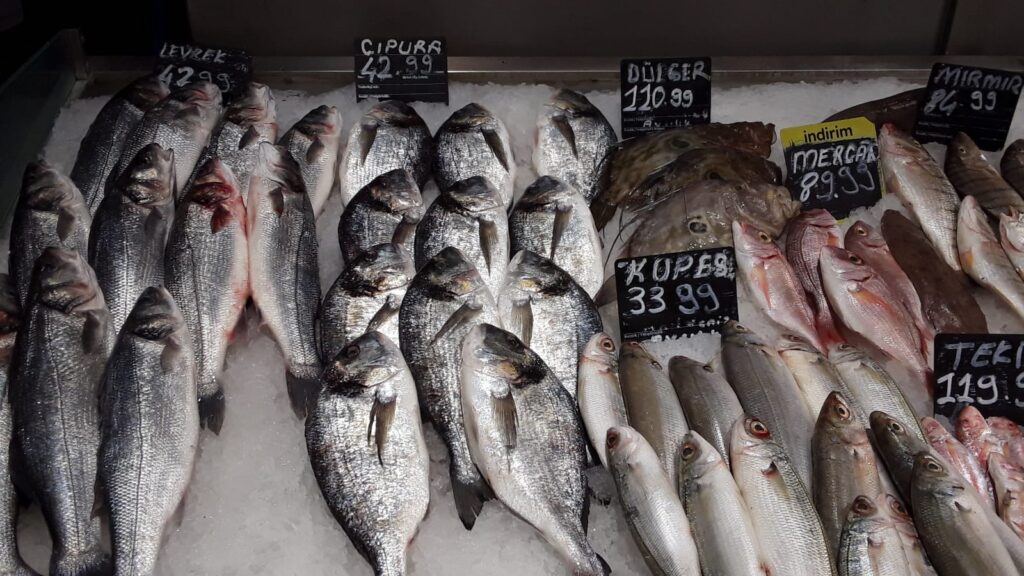 Where to Buy Fresh Fish & Seafood in Çeşme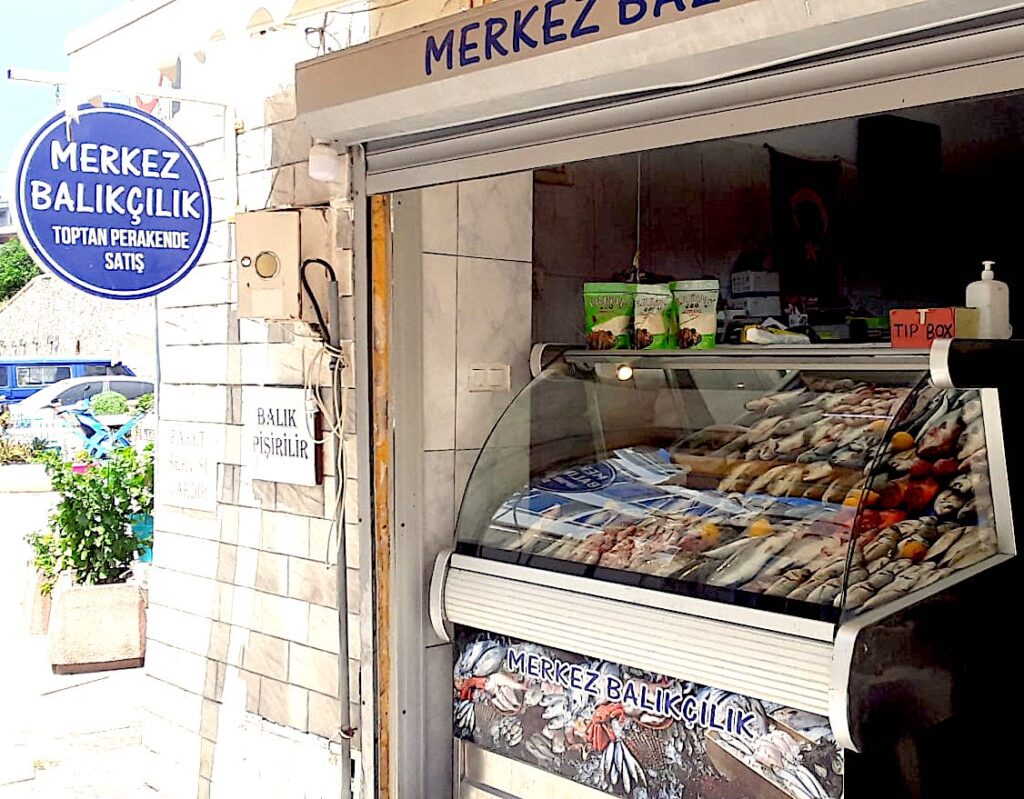 Fishmongers: In the centre of Çeşme on at 3047 Sk., is located Merkez Balıkçılık a well-established and usually very well supplied fishmongers.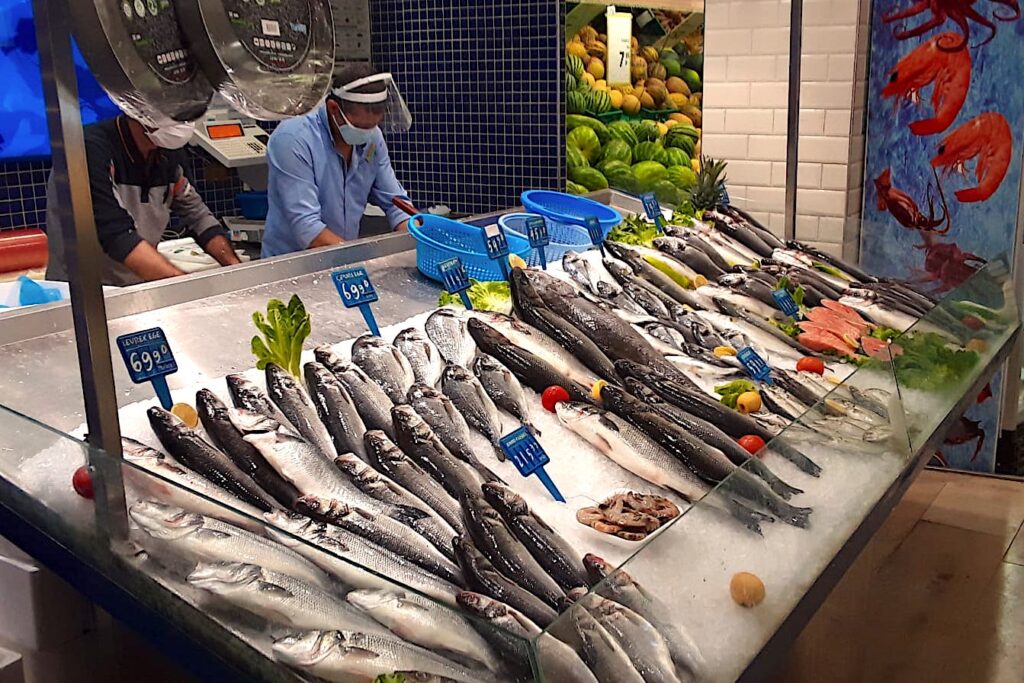 Supermarkets: The largest supermarket selection of fresh fish is at the Migros MM on Carrefour Atatürk Boulevard, there are selections at the Migros MM Otobüs Terminal and the Carrefour on Atatürk Boulevard. For locations of supermarkets click here.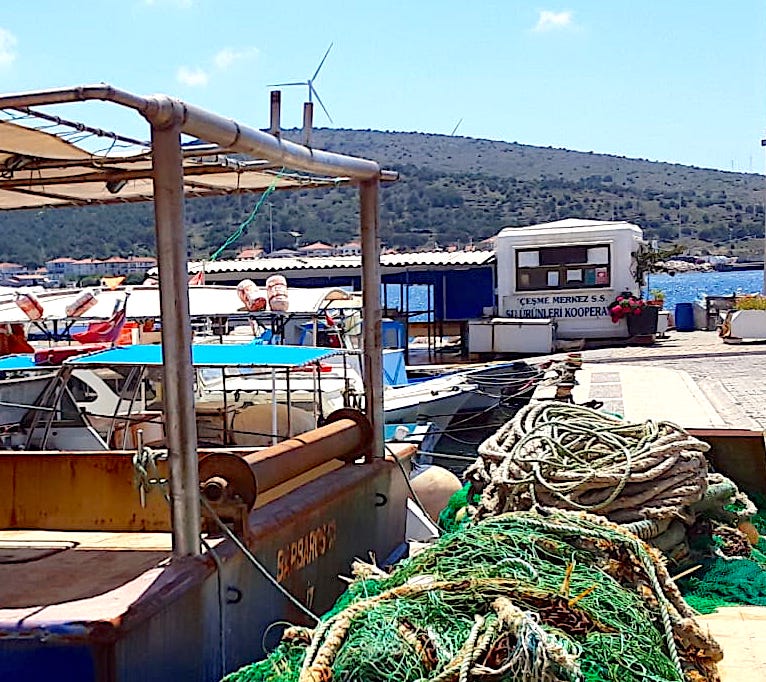 Çeşme Centre Fish Landing: Located at the north end of Çeşme's waterfront at the junction of Hürriyet Cd. and 101 Sk., close to the many fish restaurants is the small fish landing and stalls were depending on sea conditions the catch of the day is sold from approximately 11.15 am, length of time depending on the volume of catch.
Fishermen's Bazaar (Balıkçılar Çarşısı): This market is Güzelbahçe 60km from Çeşme but it is worth a small detour and fish purchase if you are driving back from Izmir. Located at Yalı, Mithatpaşa Cd. 168-22, 35310 Güzelbahçe/İzmir this extensive fish market is adjacent to the Güzelbahçe new harbour and surrounded by fish restaurants where you can have the market fish cooked and served to you.
Fisherman's daily cooperative markets in Çeşme Municipality – schedules published in "Iz Dergi" April 2022:
| Area | Time | Location |
| --- | --- | --- |
| Çeşme | 11:15 | Çeşme Balıkçı Barınağı (as above) |
| Alaçatı | 11:00 | Pazaryeri girişinde – entrance marketplace Mosque |
| Çiftlikköy | 10:30 | Çiftlikköy Balıkçı Barınağı (fish shelter/market) |
| Dalyan | 10:00 | Next to Balıkçı Hasan |
| Ilıca | 10:30 | Yildizburnu Balıkçı Barınağı (harbour, west of Ilıca beach) |
| Ildiri | 10:30 | Opposite Kamil grocery store |
Note: In Turkey fish are usually sold whole and uncleaned, the fishmonger will descale and gut your order for you.
Fish & Seafood Restaurants
The main concentration of fish restaurants are along the waterfront on Hürriyet Caddesi; these restaurants promote an attractively priced dinner package including sea bass/sea bream, plus a salad and dessert. Waiters can appear quite voracious in attracting clients to their restaurants and are keen for clients to spend on additional higher profit items such as starters and alcohol. However, there is no problem staying with the special offer, and the views and cooling sea breeze make an affordable dinner pleasant and memorable.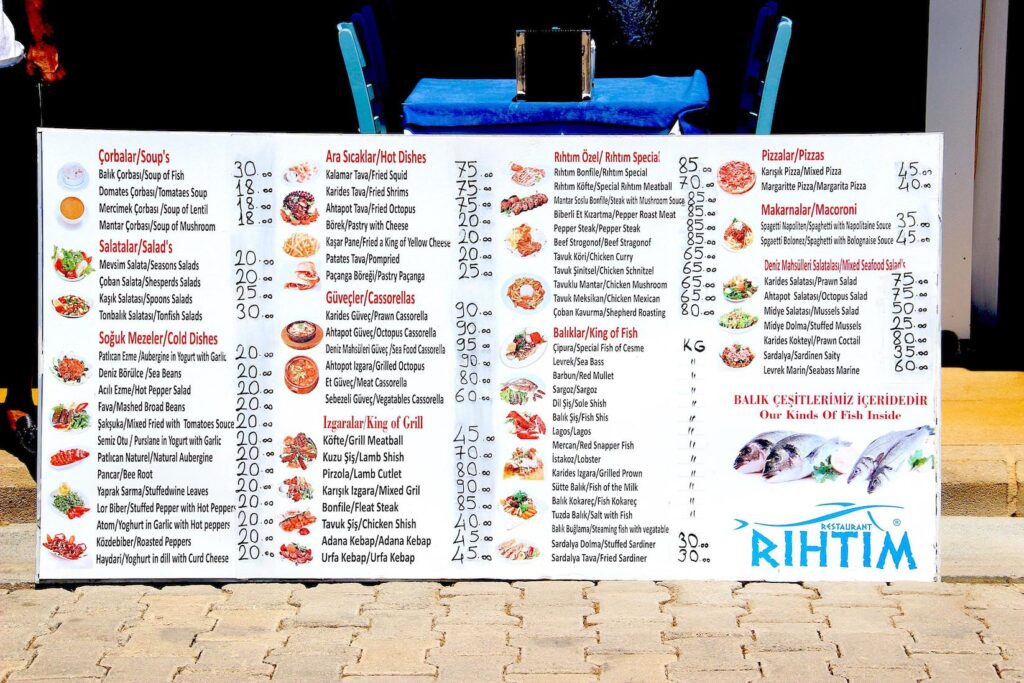 Menu board (from July 2021) of Restaurant Rihtim on the waterfront, advertising fish, seafood, mezes and other dishes. Fish are subject to availability and sold by weight, except sea bass and (gilt-head) sea bream which are available at a promotional price of approximately TL 60 (July 2021) including salad.
Around Çeşme Marina, many restaurants are specialised in fish and seafood; these restaurants are typically a little more expensive and upscale. The very close proximity to the water and the yachts, together with the gentle flapping of the sails and rattling of ropes on masts, offers a lovely evening dinner environment. In high season the restaurants can get extremely busy, and occasionally a challenge for the waiters to keep up.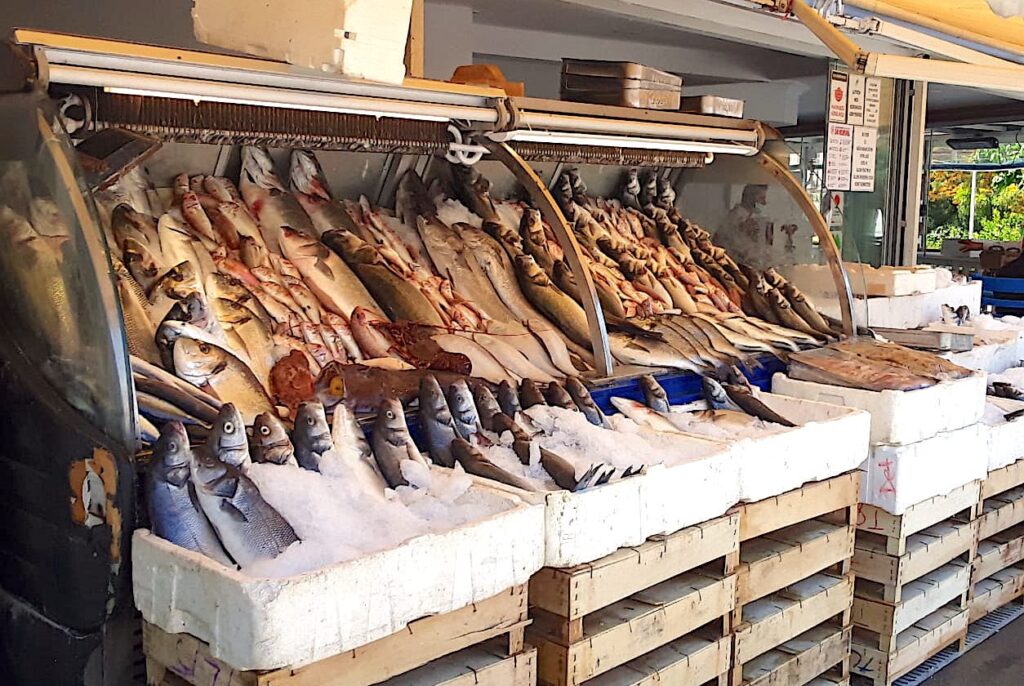 In the centre a few restaurants are specialised in fish and seafood, these include the restaurants working together with the fishmongers; Dalyan Balıkçılık & Horasan Balıkçılık on 3047 Sk., and Levent Balık Evi at 3011 Sk. on the top (east) end of the town centre.
A-Z of Çeşme Fish & Seafood
| Turkish Fish | English Fish |
| --- | --- |
| Akya | Leerfish or Garrick |
| Ahtapot | Octopus |
| Barbunya | Red Mullet |
| Çipura | Gilt-head Sea Bream |
| Dil | Sole |
| Dülger | John Dory |
| Ege | Aegean (indicates wild? *check) |
| Hamsi | Anchovies |
| Istavrit | Jack Mackerel |
| Kalamar | Squid or Calamari |
| Kalkan | Turbot |
| Kefal | Mullet |
| Karides | Prawns |
| Kılıç | Swordfish |
| Kofana | Bluefish (35cm+/500g+) |
| Kolyoz | Chub Mackerel |
| Kupes | Boops Boops |
| Levrek | Sea Bass |
| Lüfer | Bluefish (28-35cm/125g+) |
| Mercan | Red Porgy or Common Sea Bream |
| Mırmır | Sand Steenbras or Striped Sea Bream |
| Midye | Mussels |
| Norveç Somon | Salmon (imported from Norway) |
| Orfoz | Dusky Grouper |
| Orkinos, Ton | Thunnus |
| Palamut | Bonito |
| Pisi | Flounder |
| Sardalya | Sardines |
| Sarıkanat | Bluefish (18-25cm/75g+) |
| Sinarit | Common Dentex |
| Tekir | Striped Red Mullet |
| Uskumru | Mackerel |
| Uzunkanat Orkinos | Albacore or Longfin Tuna |
| Yazılı Orkinos | Skipjack Tuna |
Fish Farming
Fish farming (Aquaculture) particularly of sea bass and gilt-head sea bream is prevalent in the Aegean and large farms can be seen off the coast of the Karaburun Peninsula. After salmon varieties, sea bass was the first marine species to be commercially cultured in Europe and at present is the most important commercial fish widely cultured in the Mediterranean. Fish are breed in large land based hatcheries and transferred to off-shore floating platforms with automated feeding and monitoring systems.